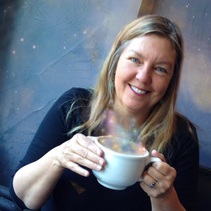 Hello! I currently work as a freelance journalist. I recently produced several investigations for a local Los Angeles affiliate.
Dead Voters
in Los Angeles and Nursing Home
Chain Under Fire
.
I am a former television reporter. My career intention has always been to help others. Today I incorporate my intuitive abilities into my writing, consultations, and daily life. I am a freelance journalist and a blogger.
I offer traditionally published books, blogs, a Facebook group, and
consultations
to help bolster intuition.
Life isn't a damn dress rehearsal! Let's get on with it! Take a stand for living and loving ! That's my life work. How may I be of service to you?
I ride a sport bike and a Harley, I smoke cigars, spend a lot of time with family, and go into nature to get away from crowds. I also lead people to their best lives. In 2009 I built a community called Psychic Housewives, where people gather together to talk about intuition. That name is a registered trademark, but I'll share it if you want to do a tv show. The Facebook group has 1200 members and there are also retail products. My Youtube Channel has more than 70,000 views. That's because people want to know more about following their feelings and intuition!
That's it in a nutshell. Please don't hesitate to contact me, find me on
Facebook
, or say hello on
Twitter
or my
Wordpress Blog
.
Many blessings, Lorraine Roe
---
Lorraine Roe
3579 E. Foothill Blvd. #450 Pasadena, CA 91107 (626) 388-6817 lorraine@lorraineroe.com

"Lorraine is a dedicated journalist. Her passion to find the truth and be fair inspired her colleagues. She is hard working and carries compassion for people in every step of her life." - Mark Ginther, Vice President of News, KXAS-TV, Dallas, TX
"Roe wasn't some cutie-pie standup artist who had to resort to breathless scriptwriting to breathe life into her stories. She was a sharp, tenacious reporter and, before the KSTP talent exodus began, was part of one of the country's most ass-kicking investigative units." –City Pages, MN.

"Lorraine's quick wit and straightforward manner are a breath of fresh air. "
–Echo Bodine, Author of Seven Self-Help Books

"My professional goal in life has always been to comfort the afflicted and afflict the comfortable."
-Lorraine Roe
Creative Troublemaker